In recent years, Little Red Book has easily become one of China's most popular social media and e-commerce platforms. Known as Xiaohongshu (小红书 in Chinese) Little Red Book is used predominantly by Chinese women, boasts over 300 million registered users and has a staggering 100+ million monthly active users. Many international brands are now taking notice of the not so little potential of this app, as it offers an ideal platform for fashion and beauty brands to sell and promote their products to a captive Chinese-speaking female-dominant audience.
Among Little Red Book's most commonly used features is something called 'notes' (笔记 biji). In this post, we're going to explain what exactly are Little Red Book notes and how you can use them to promote your brand to a Chinese audience.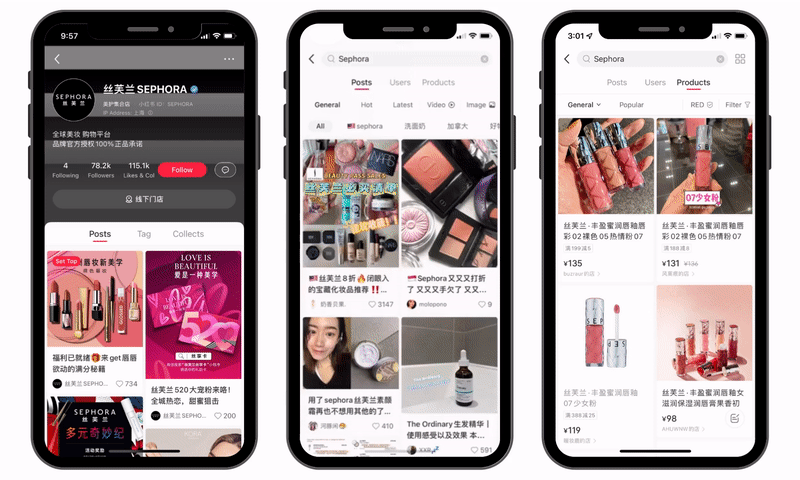 Little Red Book Notes about Sephora products
What Are Little Red Book 'Notes'?
Little Red Book notes (sometimes referred to as 'shopping notes') includes anything from write-ups, photos, or short videos posted by both brand official accounts and individual users that ultimately assist other users to make smart purchasing decisions. At its very core, Little Red Book is a lifestyle and consumer decision-making portal that focuses on young people (70% of users are born after 1990). The incredible simplicity of sharing content in a seamless way sets this app apart from other major mainstream Chinese competitors, as it presents a more candid and transparent shopping experience that is by and large crowdsourced.
Notes in Little Red Book often center around the user's own consumption experience, which serves as a useful guide for other users. Generally, photos and text notes are used to convey more detailed product information, whereas short and fast-moving videos highlight looks as well as advantages/disadvantages of the product in a TikTok style format. Little Red Book users rely heavily on the app's search tool, as this is a common way in which users lookup product information. Including notes on each post, whether it be photos, text or videos, improves searchability through title and keyword matching (think SEO 101 for Little Red Book).
How Personal and Brand Notes Differ
Little Red Book personal notes are left mainly from the general public, but also from internet celebrities or KOLs (Key Opinion Leaders aka Influencers). They record and share their daily insights about topics like cosmetics, fashion, food and entertainment. Brand notes on the other hand are high quality notes crafted from the brand itself, with the aim to increase product or brand exposure by increasing traffic to the brand's profile page.
Personal notes can provide brands with real-time feedback on their products, allowing brands to iterate fast and release new updates more often which ultimately creates higher quality products and better brand positioning overall.
International beauty brand Bobbi Brown is a good example of how personal notes can provide brands with important feedback, better enabling them to meet the needs of demanding consumers. A large number of notes on Little Red Book revolve around how to achieve a flawless base (如何让底妆更服帖), making Bobbi Brown's Vitamin Enriched Face Base Priming Moisturizer a natural fit. Little Red Book users commented that Bobby Brown's face base moisturizer "smells like an orange when you first open it", has "a slightly sweet and very fresh orange-like taste", and "it tastes like a sour orange". Based on this feedback, Little Red Book platform suggested for the brand to nickname the product "Orange Cream" and use it as a key word for communication. After a few iterations, marketing for Bobbi Brown's new "Orange Cream" helped account for a 1000% search increase on the e-commerce platform year-on-year, and an increase of 900% sales volume year-on-year.
Bobbi Brown's Orange Cream on Little Red Book
Tips for Creating Effective Brand Notes on Little Red Book
It's important that brands are aware of Little Red Book's content reviewal process, including platform rules for posting acceptable photos and videos. Brands need to strike a balance between adhering to Little Red Book's content policies while at the same time implementing a few best practices that will help increase brand exposure on the platform. Here's our top 3 tips for creating effective and traffic-grabbing notes on Little Red Book:
1. Avoid Fake and/or Over-Filtered Content
Fake content in the form of notes on Little Red Book, especially anything related to weight loss, skin care, or areas of medical and health that include exaggerated claims, are not allowed. In 2021, Little Red Book came under fire after some influencer profiles began sharing highly altered scenery pictures, posting over-filtered photos of scenic spots that left a big gap between perception and reality. Lesson: brands need to meet consumer's expectations by authentically presenting their products in a realistic manner.
Over-filtered images can have leave consumers disappointed
2. Match Title and Content
Little Red Book's algorithm pays close attention to the semantics of written content, so it's important that the title and content of notes are closely related. In the case where content and title don't match, it's likely to be detected as a non-compliant note. For example, if the title of the note is 'How I Lost 20 Pounds in 1 Month' but the content of the note doesn't discuss weight loss or weight loss products, such content would be considered a low-quality marketing note and likely rank poorly.
3. Avoid Absolutes
Choosing appropriate language in both text and video notes is key in producing quality content on Little Red Book. In day-to-day conversation, we tend to use absolute words such as "first," "unique," "most," and "always" and think little of it. However, when it comes to marketing your brand on Little Red Book, absolutes or exaggerated words should be avoided at all costs because they are challenging to prove. Hard facts and data on the other hand is more convincing and persuasive to consumers.
Are you interested in setting up an official brand account on Little Red Book to attract young Chinese consumers? Fill in the form below and and our Little Red Book marketing experts will meet with you to discuss a customized solution that fits your needs.